Term Deposits – Where to go when rates are low?
The Reserve Bank of Australia cut rates to a new record low of 1% in July – Borrowers cheered the announcement, however retirees and savers sitting in Term Deposits or cash have seen an already low return, cut even lower.
With most 12-month Term Deposit rates now sitting under 2%pa, the big question is where to from here to achieve a greater return on investment?
There are multiple options available in the investment universe, with a range of varying rates of income return and risk. With any investment there is an element of risk, so it is important to speak to an investment professional to make sure whatever your decision, it is in line with what you are looking to achieve over the short, medium and long term.
The tables below details some alternatives to TD's that can possibly achieve enhanced income and investment return particularly when invested over the longer term (5+ years).
Table 1: Asset class income yields, franking credits and risk levels
Asset Class
Income Yield %
Franking Credit
Risk Rating
Cash and Term Deposits
Up to 2%
Nil
Low
Corporate Bonds
Up to 6%
Nil
Low to
Medium
Hybrid Securities
4+%
Up to 100%
Low to
Medium
Real Estate Trusts
7+%
Nil
Medium to
High
Australian Shares
(Blue Chip)
Up to 7%
Up to 100%
High
International Shares
Minimal
Nil
High
Whilst switching from the safety of a Term Deposit investment into a portfolio of international shares is probably taking on too much risk, the answer of where to invest to get a better rate of return probably lies somewhere in between. By diversifying across a range of the above asset classes you can lower your risk of significant drops in your investment value whilst increasing your expected rate of return above the 2% that Term Deposits currently pay. Furthermore, your investment remains accessible to you without the need to 'break' a Term Deposit and further reduce the income paid.
Table 2: Asset class returns to 30 June 2019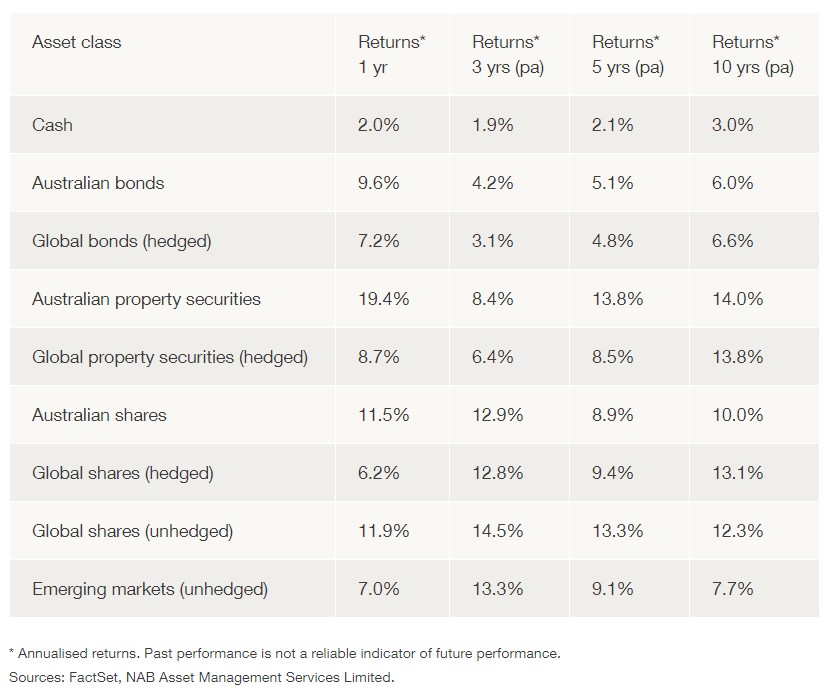 If you currently have a Term Deposit or money sitting in the bank and would like to discuss your investment options with a qualified professional in more detail, please call the Muirfield team on (03) 5224 2700. We'd love to hear from you.