The Sun Will Shine On Investors This Financial Year
Let me go out on a limb (and I haven't done this since climbing trees as a kid – but that's another story!). I believe the sharemarket will recover this year.
In brief, Australia's economy is performing very well with company profits at record levels. The high $A is making it more expensive for overseas investors than in the past. If the exchange rate moves back towards its long term average of 80c US – not $1.03 US, as it is now, it will make investment in Australia and the purchase of our goods cheaper for those overseas. The sharemarket is low but dividends from 'blue chip ' shares are now often more than the interest rate you can get on Term Deposits.
It's for these reasons that I believe the sun will shine on investors over the next year.
We have an informative eNews ahead. We hope you enjoy, and share the link to our eNews with friends and family.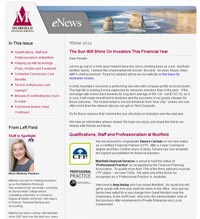 Click here to read the 2012 Winter eNews